Best Compression Tools for Images/PDFs/Videos/Files 2020
By Skylar L., Senior Editor — Jan 16, 2020
While the pace of people's social exposure is speeding up, a lot of challenges have been delivered to our data and device. Every time you record interesting stuff with videos, pictures, audios, and etc., the first round of headaches will be how to handle large-sized files in different formats. Therefore, we are going to introduce your several compression software or websites to reduce the size of various targets.

When it comes to archive/extract files, the majority of users may have used file archiver like Bandzip or Winrar. However, from our perspectives, it's too inconvenient to download a tool with compression/Extraction alone since we are in daily need of more file-related functions together. In this way, ExplorerMax, an integrated file manager, is your best solution.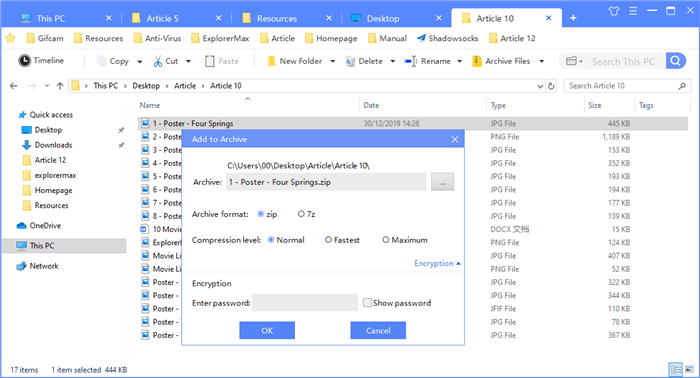 Key Features:
Archive files to a zip/7z and extract various types of files.

Batch rename your enormous files with replacing the certain txt or numbering them.

Advanced file search is realized together with categorized results.

Tabs and bookmarks can offer a fluent file trip with convenience.
You can click the button above to try it now.

TinyPNG -- PNG/JPEG Compressor Top 1
It's a popular website to help your images (.png/.jpg) to lose weight to a large extent. TinyPNG has a high compression ratio about 50%-70%.
Tips: How to get the smallest PNG?
Use [Save for Web & Device] in Photoshop to export your images as 24-bit transparent PNG files and upload them to TinyPNG. You'll get the really tiny files with great quality.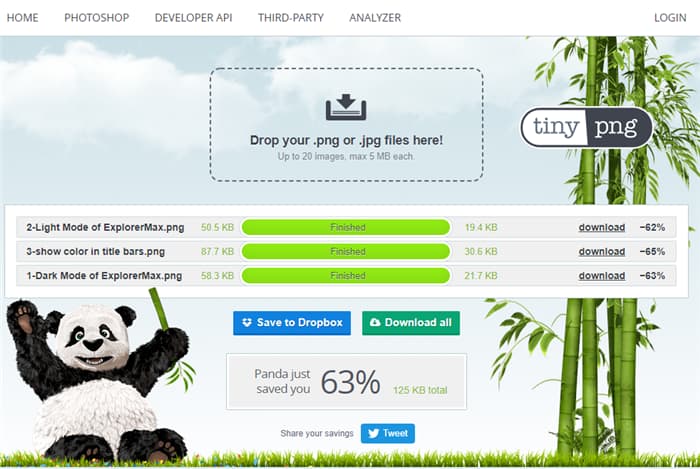 What's more, the free version enables you to handle with 20 images (smaller than 5 MB each) every time. But switching among different browsers can unlock this limit perfectly.

Squoosh -- Image Compressor and Converter Top 1
This is a powerful light tool developed by Google Chrome Labs. There are three key functions to mention:
Dual editing-pane and the slider enable users to compare the image in different formats and compression ratios vividly.

Squoosh can convert your pictures to (Browser) JPG, PNG, and WebP after it resizes or compresses them to a mall size.

The SVG-formatted image is supported by this FREE website.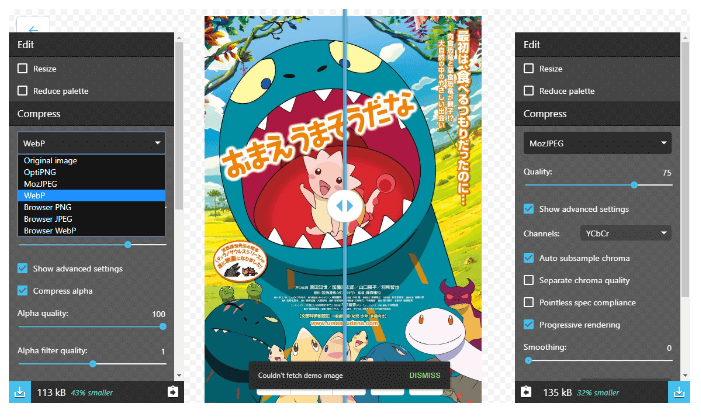 EZGIF -- GIF Saviour Top 1
As long as you've tried this online tool, you will be shocked by its plain design and extraordinary features. In other words, everything connected with GIF can be found and solved in a simple way.

EZGIF allows you to make, optimize, and edit GIFs here. In the optimization process, it can reduce GIF file size by 30%—50% at a cost of some dithering/noise. Also, the compression level can be modified with a simple slider to manage the trade-off between compression and quality.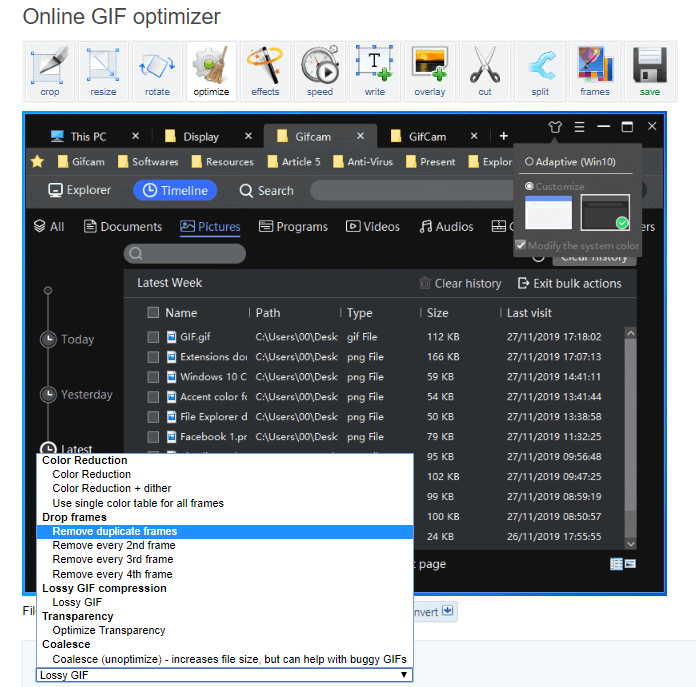 Furthermore, conversion among files such as videos to/from GIF, GIF to JPG is available in ezgif.com. You may explore more by a simple click.

iLovePDF -- PDF Fixer Top 1
It's easy to get embarrassed when you send an email attached with the crazy big sized PDF and get rejected. And most PDF compression tools are expensive nowadays. Thus, we've selected iLovePDF, which is really great, and share the tips of its free version.
In the free version, to compress a PDF file, you even don't have to register. Once uploading the file and choosing the compressing level (Less/Recommended/Extreme) can you download a small one. What if you want more? Register an account for free. Except converting PDF to Word and PDF/A, all tools you need to work with PDF are included now. Unlimited tasks can be done with some limits on file numbers/size per task.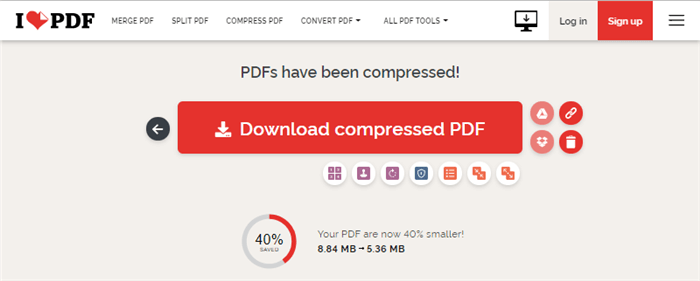 Notice: With its account, you have the same access to its mobile app, desktop reader, and iloveimg.com. Remember to bookmark them all.
Meanwhile, another online PDF-related tool called SmallPDF is posted on our site.
You may check here: 6 Productivity Tools to Improve Your Work Efficiency
Xiaowantool -- Video Compressor Master Top 1
It's a magical video compression tool developed by a Chinese geek. It aims to help beginners of video production to reduce the file size easily. Now in China, a large number of young video makers are familiar with Xiaowan's pink icon and many geeks have attributed their thought to improve it.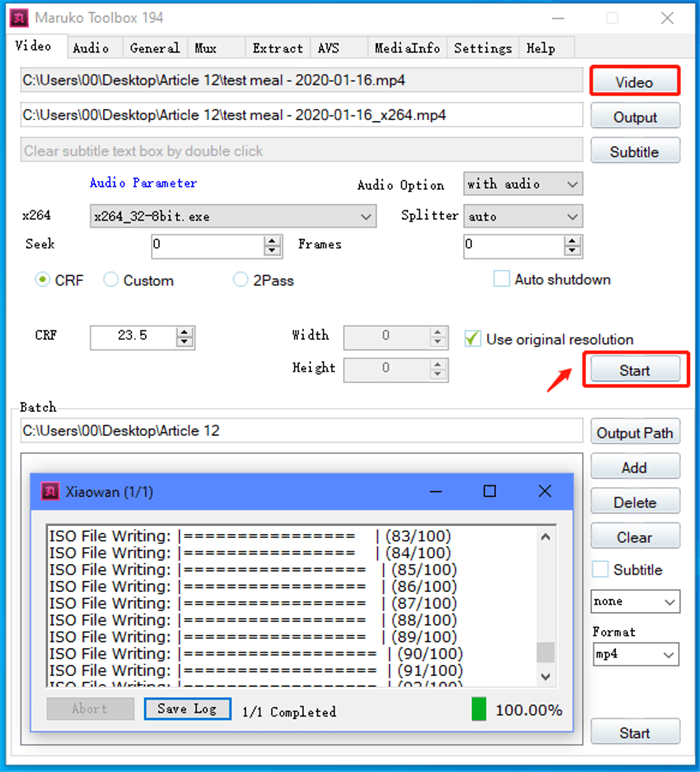 Key features:
Process the video(H264+AAC) compression with great quality.

Embedded ASS/SRT subtitles in video

Convert AAC/WAV/FLAC/ALAC audios

Non-destructively extract and package MP4/MKV/FLV
Notice: Xiaowantool supports Chinese/English/Japanese and it's totally free.
In general, 6 compression software are listed here. You can select what you need to have a nice compressing tour. Feel free to comment below.
Recommended
ExplorerMax
Smart file explorer and manager for Windows platforms.
Download Now