6 Windows File Explorer Alternatives You Need to Know
By Skylar L., Senior Editor — May 12, 2020
Nowadays, those who are really concerned about smooth File Explorer experience, have put more emphasis on finding the efficient replacement tools to manage cluttered files. Looking forward to the tabbing feature and user-friendly surface? All you desired are realized now. Hence, in this article, we are going to offer you multiple file management options and introduce the best program for you.
Notice: You may select the program according to your level and needs.
1. User-friendly File Management Tools for Beginners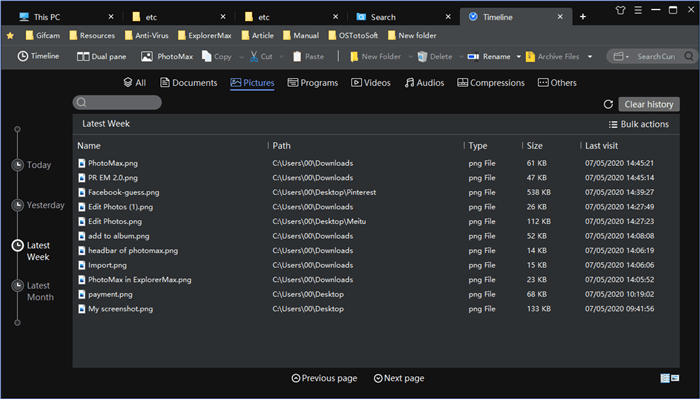 Although new in the market, ExplorerMax has caught much attention from young generations through the classical Black-White-Grey surface. What's more, it's really easy-to-use. Beginners never bother to learn the tutorials at all.
Pros:
Browse files and foders with tabs and Bookmarks in a Chrome style.


Extremely fast file search and overall results in categories like pics, docs, etc..

One-click to do the copy or find parent path for searched files and Drag-and-drop to add bookmarks.

Clear timeline to locate recent history and files.

Dark mode for Windows 10 users is perfectly supported!

Cons:
Part of toolbar won't work when it's in a dual-pane mode.

Only support one plugin that is for photo management.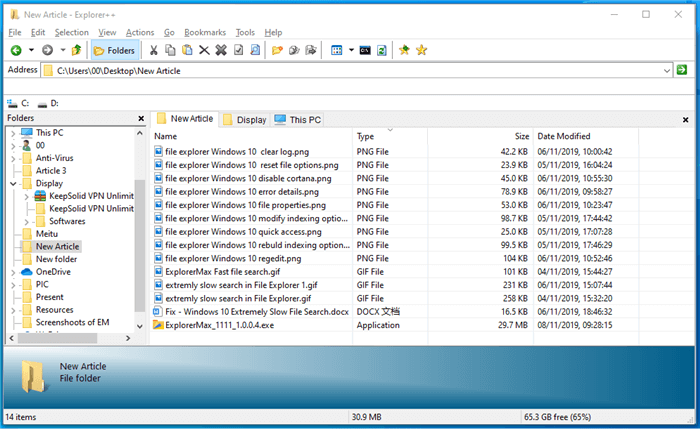 When it comes to a free file manager, Explorer++ are frequently mentioned since it's entirely free as the open source. Over 7 years, it has kept itself simple and plays a extension role to File Explorer.
Pro: Simple and basic functions are added as icons on the Windows built-in styled surface.
Con: It's more likely to be regarded as a small extension to the File Explorer without enhancements.
2. Complicate File Management Tools for Intermediate Level
Before we start this part, you may want to check the screenshot below to compare these two managers from the interfaces and icons.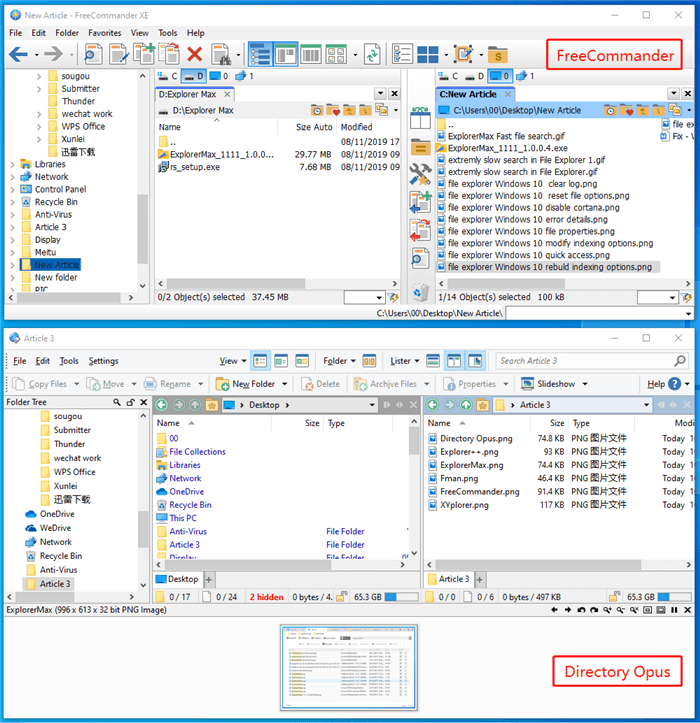 This is another freeware which you can use it for private and professional purposes. Unlike the beginner's tool, FreeCommander has a typical dual-paneled option and allows multiple DOS command through shortcut keys. According to the screenshot, lots of interaction can be realized such as direct moving or copying among panels.
Pros:
Adaptive file view and surface view to meet different needs.

Feel free to command the files since DOS is supported.
Cons:
Sometimes you can't find key point due to big and messy icons. They need a redesign.
Notice: Only donors have the access to 64-bit downloads and enjoy all the control-panels.
If you pursue a traditional file keeper in the beauty of conciseness, you can't miss the free trial of Directory Opus. This old fashioned tool has the ability to help you stay organized with powerful functions and highly customized surface.
Pros:
Support for different panel view and preview for pics.

You can accomplish all the action through the icons or arrows in the surface, such as switch tabs, add bookmarks, swap panels and etc..

One step to launch other applications.
Cons:
Too many functions on the surface for normal version since every space there are in need.

It's a little bit expensive.
Notice: If you are scared by its strong capability, maybe you can try muCommander which is called the short for Directory Opus.
3. Hardcore Alternatives for Advanced Level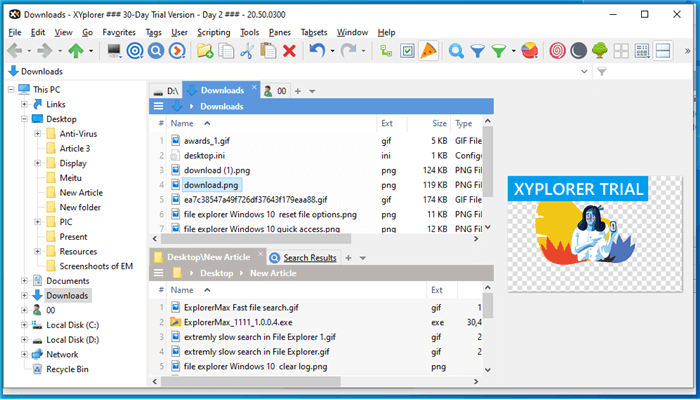 Pros:
Strong step mode for geeks to run your own scripts .

The Address Bar accepts many search items like files, scripts, filters. You can also filter the files by lengths and properties now. For instance, you can quickly get images with aspect ratio 16:9 via setting visual filter.

Besides tabs and catalogs, you have abundant things to explore.

It's portable.
Cons:
Icons and filters are too colorful to offer right instructions. (Bars can be hided though.)

The pricing policy is too limited.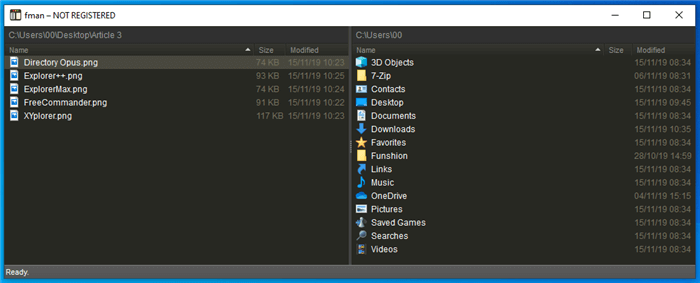 If you are a tech-savvy or keyboard lover, you will really enjoy the craziness of Fman. In Otherwise, you're going to be expelled by the icon-free interface. Fman somehow looks like a sniper, every shortcut can shoot you right in the heart. Everything there is really fast and efficient.
Pros:
Support the cross-platform work among Linux, Mac, Windows.

Push you to work more concentrate and productively with a command line and the simplest directory view.

Free to extend the functionality with the flexible plugin system.
Cons:
Not friendly to the the new starter.
Summary
In general, you may check the sheet below to review present best Windows File Explorer alternatives provided by various developers. Try them with keep in mind that the best is the one who suits you the most.

If you have any other better replacement software to recommend, feel free to contact us.
Recommended
ExplorerMax
Smart file explorer and manager for Windows platforms.
Download Now