An Ultimate Review of Driver Talent - A Top Driver Updater
By Skylar L., Senior Editor — Jul 17, 2020
Since Microsoft gets used to release updates more frequently, random bluescreens or sound issues or else challenge every nerve of users. Besides rolling back to older versions, troubleshooting the device issue and updating the best-matched drivers will be the great fix in most cases. Thus, it's vital to find a handy driver update software. Today in this article, we'll focus on Driver Talent, the best free driver updater, and present all features you need to know.
About Driver Talent
Driver Talent (formerly called DriveTheLife), developed by OSToto Co., Ltd., is one of the best driver update programs. It's been trusted by millions of users for several years and solved numerous driver issues.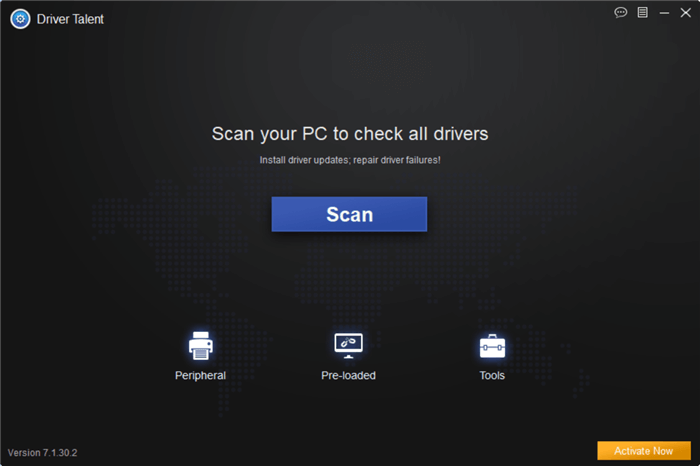 Driver Talent's free version can help you locate and download the out-dated / corrupted / misbehaved drivers after a full scan, then offer a detailed guide to install them manually. And the Pro version fixes things in a standard way with auto-update, powerful repairing tools, and other advanced features. Here is our main impression of Driver Talent.
What impressed us the most
What can be improved

1. User-friendly surface.

2. Free driver download.

3. Auto driver update (Pro Only).

4. Helpful audio repair tool.

5. Fast tech support via emails.

6. Extra free Windows tutorials.

1. Some false positives remain unfixed. So that registration progress may be interrupted by anti-virus programs sometimes and you need to re-enter the key.

2. Do not support customized scans.
Key Features:
l Scan & find the outdated, missing, corrupted, broken Windows drivers
l Download/update to the latest drivers for both computer hardware and other devices.
l Backup, restore, uninstall PC drivers easily and quickly
l 100% compatible with Windows 10/8.1/8/7/XP/Vista
l Check all computer hardware profile in one place
l Offer professional tutorials for instant PC-issue search
(You can press the button below to download it.)
1. Easy-to-use Scan and One-stop Installation
After launching Driver Talent, a simple click on Scan button will power the detection process and filter out all missing drivers, outdated drivers, corrupted drivers, and even port issues. It is also applied to identify and download drivers for all USB-connected devices like mouse, keyboard, printer, scanner, BlueTooth, and so on. Through the dashboard, you can choose to download them for free and install updates according to the tutorials. For sure, Pro users can gain access to auto-updates with hand-free installations.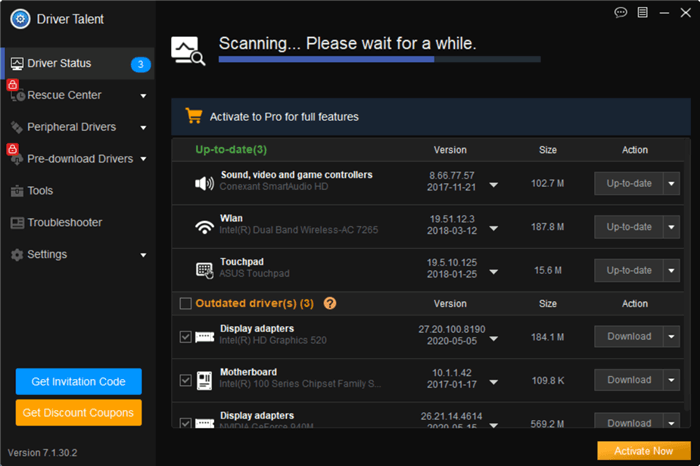 2. Helpful Tools for Specific Needs
There are three helpful Windows assistance tools Under the [Tools] section. First of all, [Hardware Detection] can present PC's hardware information in a second. It's easy for users to check the system version, processor details, and else. Then, [Audio Repair] enables users to test and fix occurred sound issues, such as no sounds from speakers but from earphones; As for [Game Repair], it is designed to deal with the problems caused by missing game components. So when black boarders, game crush, or abnormal display issue happens, just locate here and get things solved with it.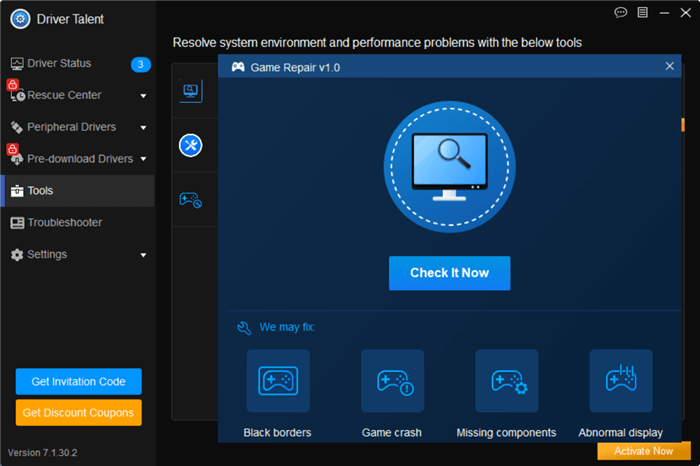 3. Free Troubleshooter with Professional Fixes
The new section of [Troubleshooter] is a powerful knowledge base for classical PC solutions. Here all common issues are well categorized into several groups -- Drivers, Sound, Network, Display, System, and Peripherals. Whenever you get questions about the laptop performance or unexpected error code, you can always find the professional tutorial by an instant keyword search. After all, the whole tech team is behind you.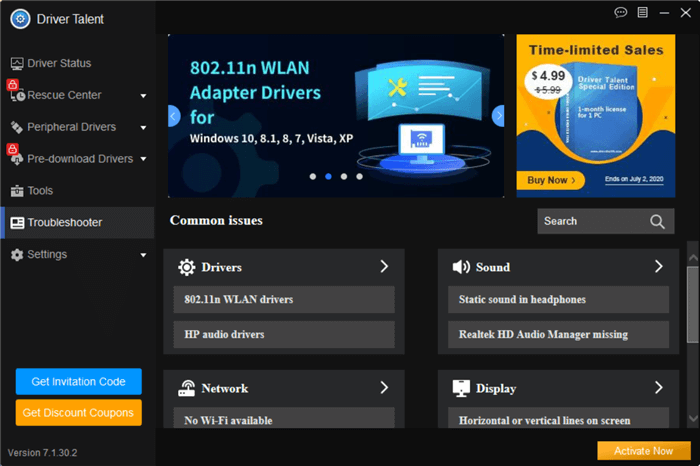 4. Safe Options in Rescue Center
Mismatched driver update can be a disaster for your computer. Although Driver Talent has listed all the available driver versions for updates and recommended the best, some users may still stick to other choices. In this case, it's a crucial step to backup vital drivers especially for graphic cards or sounds. [Rescue Center] ensures you to backup driver in advance, restore drivers for a roll back, and uninstall drivers when needed.
Notice: Before a system change or update, the must-done actions are to pre-download the most stable drivers and store them in a safe place.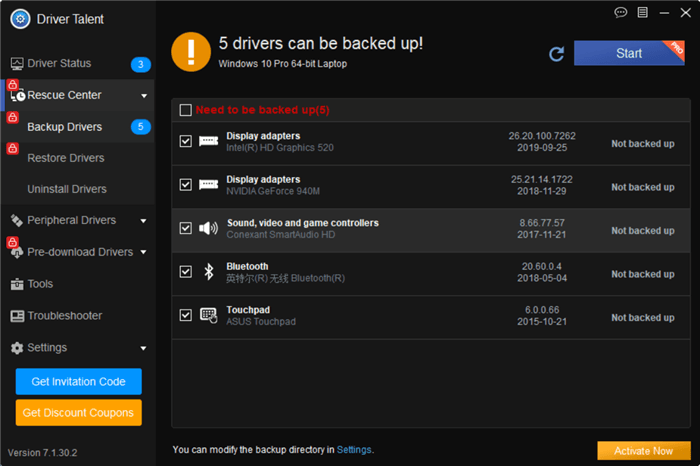 5. Multilingual Interface (Language Support)
Driver Talent supports 16 languages now. They are English, German, French, Portuguese(Brazil), Russian, Armenian, Japanese, Bulgarian, Polish, Turkish, Greek, Arabic, Korean, Persian, Slovenian, Spanish.
About Driver Talent for Network-card
Have you met this embarrassing situation -- there is no internet and no drivers after a system re-install? Driver Talent for Network-card is the best solution for offline driver installations. It can help you install wired or wireless network drivers offline soon. Once the internet is set properly, other steps will be much easier.
Pricing Plan
OSToto offers several pricing plans to meet different needs. To fix the current emergent issue, the 1-month license is your best choice to cover the short term. It's only $5.99. However, a lifetime license will be much better if you aim to keep your PC's performance in peak for a long term. It only costs 19.95 for a lifetime key working on 1 PC.
Notice: Specialized 20%-OFF Coupon for Lifetime License -- [ DT4REVIEW ].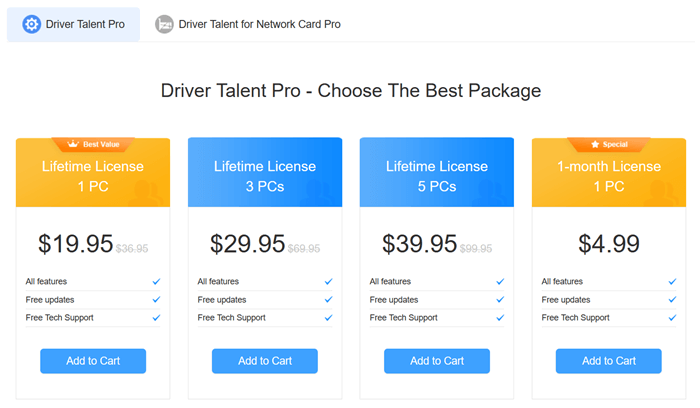 Summary
In general, if you're looking for the professional fix for driver issues, Driver Talent is a must-have program for your PCs. Feel free to share your PC tricks blow.
Recommended
ExplorerMax
Smart file explorer and manager for Windows platforms.
Download Now