ExplorerMax Giveaway: Smart Tabbed File Manager for Windows (1-Year License)
By Skylar L., Senior Editor — Jul 10, 2020
Good News Here!
To help those fighting with COVID-19 and dealing with numerous digital files, OSToto has decided to giveaway 2000 ExplorerMax's 1-Year license for free from 9th to 16th in July. Hope all of you guys enjoy this time-limited offer.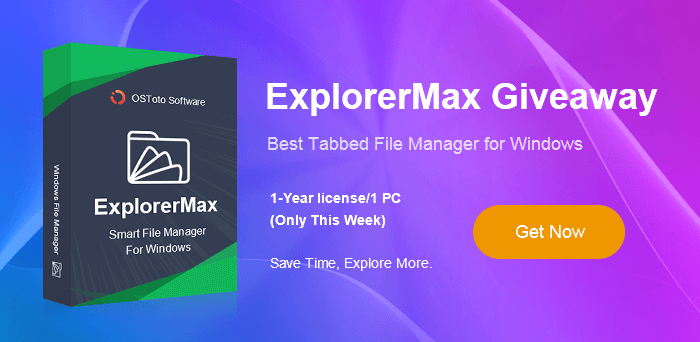 How to Register ExplorerMax?
Install ExplorerMax - Launch ExplorerMax - Locate Menu > Register
In this part, you can enter the key here: 14EAA-EBA16-95376-53B7C-A7A93

Then input an email address to get the key bound and click [Activate] button.
Activation Failed? (Solutions)
In rare cases, users may fail to activate ExplorerMax. Here are the possible situations:
1. No network connection. Make sure your PC is connected to the internet.
2. Anti-virus software interruption. If you have installed Malwarebytes, it will suspend the registration process and doesn't allow our server to read the license status. In this way, please add ExplorerMax to its whitelist. (For more details, go check spot#3 in Extra Notice below)
3. Server Error. Exit the program, wait a second, and re-launch it.
What Can You Expect from ExplorerMax?
Developed by OSToto in 2019, ExplorerMax is a handy file management software for Windows PCs. It's born to realize needed features that Windows File Explorer lacks, such as tabs, bookmarks, etc. Here we'll go deeper into this smart file manager for PC and tell you what to expect. (See screenshots below)
1. Explore folders/files like browsing sites in Google Chrome
Most of you may get used to open multiple folders on the desktop and find it hard to check the right one. With ExplorerMax, you'll have tabs now! When all tabs are presented on the top, it's easy to switch to the target. What's more, for frequently-visited stuff, bookmark area is well-designed to collect those files or folders, and even programs. In this way, file browsing can be a pleasant journey.
2. Complete daily file operations in one-click
Do you still have separate software to deal with zipping/unzipping, batch rename, etc? Now ExplorerMax has combined these functions in one mini-bar. With a single click, you can copy, paste, delete things soon. Also, smart extraction, compression, or batch rename are involved here.

3. Search for target files with the flashing speed
If you know how long it will take for a snail to walk a step forward, go search for a file in Windows Explorer and you'll know it. Try ExplorerMax and enter into the search box. Once the search instruction is delivered, all results will be categorized and displayed quickly. It's that fast and sorted.

4. Check organized latest browsing history
When clicking into [Timeline], you can check all files browsed in four periods -- Today, Yesterday, Latest Week, Latest Month. And an extra search box and bulk deletion are included, too. So it's a great resort to track files closed by mistake and clean the history.

5. Enhance the better interactions between two folders
Instead of switching among folders time after time, dual pane enables you to get an overview for double panes. The drag-and-drop is super classic. Meanwhile, this is still a beta version. So if you hope to get a dark mode for dual pane, or add more functions in it, you may wait a while for further updates.
About Pricing
Normally, we charge $9.95 for a 1-Year license/PC. But this week, you can register it without a penny! For sure, if you have tried ExplorerMax and really like those features, you can buy a lifetime license here. (Here is an official 15%-off coupon: EM4LIFE)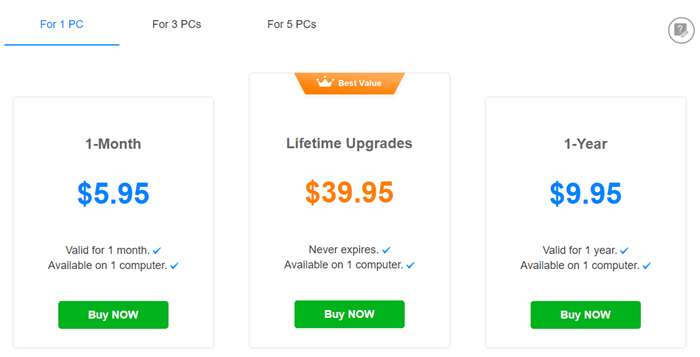 Extra Notices (Important)
1) If you do not wish to start ExplorerMax at every boot of Windows, please uncheck the option called [Launch ExplorerMax on startup] in the installation process. Otherwise, locate [Menu] > [Settings] > [General] and disable the option of [Launch at Windows boot].
2) Once you install it, ExplorerMax will take over all file-browsing tasks like other file managers will do. But it's alright if you want to stick to Windows File Explorer. Just locate [Menu] > [Settings] > [General] and disable the option of [Run ExplorerMax when you open a folder].
3) There is no virus or ads contained in ExplorerMax. I know some of you may find two results in Virus Total. And sometimes Malwarebytes will report negative with us and interrupt our registration process, too. However, all of them are false positives. We've tried to contact them for several times but not got any reply yet. It's CLEAN! Kaspersky, AVG, AVAST, Sophos, and other anti-virus software can prove that.
For more FAQ, please check our user manual.
Feel free to contact us for function wishes, unknown bugs or suggestions. Your voices matter. Love you all.

Recommended
ExplorerMax
Smart file explorer and manager for Windows platforms.
Download Now